Allen Aurich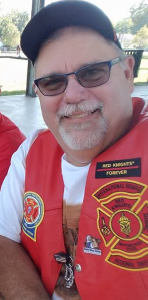 748 Ted Pickett Lane
League City, TX
U.S.A. 77573
Cell: 281-639-2453
region6@redknightsmc.com
Contact person for Arizona, California, Colorado, Hawaii, Kansas, Nevada, New Mexico, Oklahoma, Texas and Utah

In 2005 I joined Red Knights TX 4. Then in 2006 I took on the role of Chapter President and started building the membership. In 2 years we went from 6 members to 40 members. This is also my goal for Region 6, build and recruit as many chapters and members as possible. In 2014 I was asked to become the Vice President for the Texas Association and happily accepted the position.
In 2015 the Texas Association hosted the International Convention.
In 2010 we took on the Texas LODD Task Force as our primary charity.
I am retired from the League City Vol. Fire Dept where I was a member for 27 years. I served in the positions of Firefighter, Lieutenant, & Captain. I was the Fire Prevention Coordinator for 15 years.
Allen Aurich
748 Ted Pickett Lane
League City, TX, 77573
281-639-2453
region6@redknightsmc.com