Joey Powell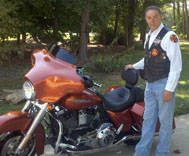 Fellow members,

I am a life time resident of Wake Forest, NC. I am married to my wife Joy and we have two sons, Thomas Powell and Scott Gregory both are full time fireman . I retired in 2006 from the volunteer fire service with twenty-six years of service. Currently I am a Branch Manager for State Electric Supply.

While in the Fire Service I was a member of the Wake Forest Fire Department for nineteen years. I served as Captain for five years. I was in charge of training, helped form the Junior Department and assisted in writing the SOGs. I was also a member of Stony Hill Fire Department for seven years. I also served on the Board of Directors.

I have also served on the Board of Directors for Paschal Golf Club, and member for twenty years…
I am a Charter Member of NC 12 and NC 22. I was the President of the North Carolina State Association for 4 years before resigning when I was appointed as the Region 4 Director in August 2013. I have all so held Vice President and Road Capitan positions in the N.C Association and Road Captain in NC 12 Chapter.

I am proud and honored to be a part of this organization and look forward too many more years and meeting the members of the Redknights My goal is to continue to support the Red Knights on the local, regional and International level ensuring the growth and positive image that this organization stands for.

I look forward to meeting as many of you as I can.

"My profession is somewhat unique in comparison to that of the average person. At any one fixed moment in time when duty calls upon me, I am prepared to sacrifice my own life to save the lives of others I may not even know. I am willing to do this because I understand that we all make choices in life. As for myself, this is the choice and path of service that I have chosen to follow. Though my job is often rewarding, it can also be unsettling.

I often reflect upon the simplicity of one question, "Who am I?" At times, I cannot provide this answer, not even for myself. So, "Who am I" to choose a profession in life that regularly shows no mercy for the preciousness of life? "Who am I" to willingly, without hesitation, invite myself into some of the most uninviting situations known to mankind? "Who am I", so that when duty calls, may never again lay eyes on the loved ones I could leave behind?

The assumed simplicity of this question is not so simple after all. Understanding "Who I am" may be difficult to answer at times. However, all I need to do is pause, think about, and remember those lives I have positively influenced and maybe even saved. All I need to do is look back on the years of service I have given to my community and realize that I helped make the world a safer place in which to live. In my heart, I know I made a difference. "Who am I?" I am a Firefighter!"

WE ARE A FAMILY OF ONE THE REDKNIGHTS……

Hope everyone has a great year of riding.
Joey Powell (NC 12)
9013 Pageland Court
Wake Forest, NC, 27587
1-919-917-2800
president@redknightsmc.com